Following up from my hardest in the hills list, I wanted a list of the Orme's hardest. This has taken a while as I am far more involved in the mountains, than I am down here these days. Indeed much to my shame having just written this I haven't done a single one on the list.
The cave, love it or hate it (for me depends if I can do it) gives lots of fantastically sustained lines. Until quite recently problems started or finished on one of the established holds. Now most of the lines are done and fitness is King in what was once a power paradise. Fortunately that man Gaskins came and climbed an old project of Chris's on Pil Box to give a hard line that is short and nails.
Once again thanks to
http://www.northwalesbouldering.com
for reminding me of when what got done, and apologies for ripping off pictures/video from all over the net.
As the photos were mainly Simon's I recommend you buy his guide so you know everything about Bouldering in the cave, and indeed on the Orme.
http://www.v12outdoor.com/catalog/product_info.php?manufacturers_id=74&products_id=2820&oscsid=472965bfc9b62231009d7ae007780413
Pilgrimige 8b+ (9a)
Once again at the top of the list it is that man Malcolm. This is the line that used to be called the Big Link before anyone did it, Starting in the bottom left and crossing the cave through
Left wall
,
Rockattrocity
into the undercuts and finshing up
Beaver Cleaver
. Done in 2005 it is still holding out for a repeat.
East Coker 8b/+
CJD comes in with a link up of
Crucial Times
into
Trigger Cut
, again holding out for a repeat, this has a brutal start and tricky finish but is one of the shorter of the big links at roughly 18 moves. Named after a poem by T.S.Eliot, I believe because of the first line "In my beginning is my end".
Gaskins Problem 8b
The Pil Box home to a million Doylo lines and one dirty dirty crimpy line. On a flying visit in 2005, Mr Gaskins checked out the wall and it turned out it was very similar to one of his training problems on his board. A couple of hours later the Orme had a brutal line outside the cave. As a footnote he graded it 8a+ before we locals drifted it upwards to stop us feeling quite so weak. Again holding out for a second ascent, CJD did all the moves when it was a project, but age seems to be getting the better of him. Dan Cattel went through a period of super psyche for it, come on DC we are waiting for the comeback...
Dorsal Stream 8b (8c+)
The latest wad of the cave is Pete Robins, this is in many ways the line of the Cave, it extends
Lou Ferrino
into
Bonnie
and its the one you really want to climb when you stand looking into the cave from the grass bank opposite. Done last year (2011) it is waiting for Neil Dyer to repeat!
Silk Cut 8b (8c+)
The extended finish to
Directors Cut
climbing the groove of
Upper Cut
to a higher finishing jug, put up by Neil Dyer in 2008, this one is the first in the list that has been repeated, must be getting easier now! Although it is by that man Pete who has had plenty of practice. Originally graded 8b+, time and more and more beta on
Trigger Cut
have brought it down.
Directors Cut 8b
Back in 2004, attentiomn turned to extending trigger cut first from the ramp which became
Halfway House
8a+, then from
Lou ferrino.
A race began and Jamie Cassidy got there first. Malcolm Smith followed quickly, then Gaz Parry, before Neil Dyer and Pete Robins ticked it on their way to climbing
Silk Cut
.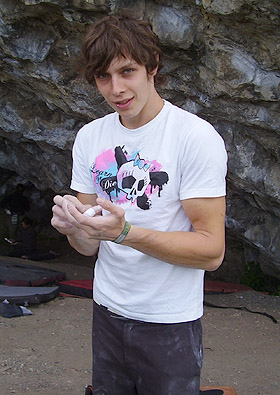 Rockattrocity-Clyde 8b
In 2008 we had the pleasure of Leroy Destroy coming to stay in Wales, in-between long sessions at the mill he was playing around in the cave. Quickly he linked
Rockattrocity
into
Clyde
giving it 8a+, and started falling off the end of
Clyde
from the
In Hell
start. Over 3 or 4 sessions he inched closer, success was immanent, he dropped the move to the jug before he eventually caught this, and promptly dropped the move to the very very last hold. He went back once more, it was wet he went and ticked abroad, then before he ever came back elbows ruined him. The most deserved tick I never saw someone get. Gutted.
Bon Attrocity 8b
Its Ben Bransby this time weighing in for the first ascent as damp holds stopped him from repeating Dorsal Stream. I guess we all just need to wait before the logical extension to either the beginning or the end.
The Incredible Bulk 8b
That man Pete Robins again using the speed of light to get through
Lou Ferrino
before it notices this time continuing straight through along the hanging pinches and undercuts to get to
Left Wall High
.
Some phone footage from Doylo of an attempt at the second half.
Louie Armstrong 8b
Years ago you occasionally saw Sam Cattel with various bits of rubber stuck to his knee and you knew he was having a uninjured phase as it meant he was trying his line to the right of
Rockattrocity
. Time passed and it was still a project, in the end his little brother Danny put some work in and got the ascent. He gave it 8a+ till he was bullied into giving it 8b. This one has seen a few ascents now, Tyler Landman got the 2nd, followed by Mickey Page, Malcolm Smith, Natcho Sanchez and Dave Jones possibly in that order. As of February 2012 Pete Robbins too.
Macho Nacho - Louis Armstrong
from
dobbin
on
Vimeo
.
Given there are so many lines at 8a+ that are parts of the above problems I think I will stop here for the Cave. With an honourable mention for Doylo's 8a+ on the Pil Box.
Drink Driving 8a+
Aspirant Ormesman Chris Doyle put 43 days into a traverse of the face before the FA in 2007, then went back to add a different start. Well might as well make the most of all that effort...